Kuethe Library Historical & Genealogical Research Center
5 Crain Highway, SE
Glen Burnie, Maryland 21061
Phone: (410) 760-9679
Visiting Hours: Thursday, Friday, Saturday 10 am – 4 pm
Evening Hours by appointment
Kuethe Library Inclement Weather Policy
The library follows the County School closing policy – if the schools are closed, the library is closed and the same for late openings. On bad weather Saturdays it's best to call the library before coming in to make sure we are staffed. 410-760-9679.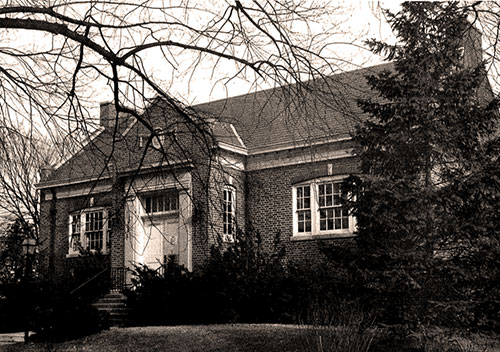 The Historical and Genealogical Research Center is jointly operated by the Ann Arrundell County Historical Society and the Anne Arundel Genealogical Society. It is housed in the Kuethe Library Building which bears the name of William Kuethe who built it in 1932 to serve as a public library for the local community. It operated for many years as a branch of the Anne Arundel County Library system and currently operates under the auspices of the Kuethe Library Board of Trustees. It houses extensive collections of local history and genealogy and offers wi-fi access for a nominal charge.
Access to the collections is free for members of either the Historical or Genealogical Societies; non-members are requested to donate $5.00 per day.
The Research Center holds over 5000 books, maps, documents, photographs, local histories, genealogical information, ephemera and other resources of use to the professional and amateur historian.